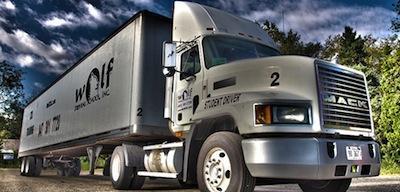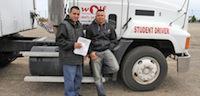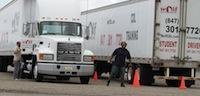 Streamwood Truck Driving School
The transportation industry appears to be relatively unscathed by the recent economy. Despite the current economic situation, there still is a critical need for a strong trucking industry to transport food and other consumer goods throughout the country. Additionally, there are other explanations for Streamwood residents to sign up for CDL Training to become truck drivers at Wolf Driving School. The first reason is because of the good pay. It's not unusual for first year drivers to earn $35,000. That can quickly multiply into $45,000 to $50,000 annually after several years in the industry. What's more, veteran drivers, who have their own trucks, can earn upwards of $100,000 a year. Wolf Driving School has been offering CDL training and truck driver training to Streamwood students for quite some time. For additional endorsements such as: driving tankers, triples, passengers or hazardous materials, we also offer CDL Class A training (the highest possible truck licensing). Our business is based upon the essential ideals of Honesty, Reliability, and Quality. We employ only the finest, highly-skilled and well-trained instructors at Wolf Driving School. Furthermore, we own and operate only the best equipment in the business. In order that our students can work while they are attending school, our CDL training and truck driver training classes offer flexible scheduling. We endeavor to assist our students in achieving their goals and objectives, as well as train them to be successful, safe, and confident drivers.
Streamwood CDL Training
Streamwood, Illinois is home to approximately 39,892 people. Located 29 miles northwest of Chicago, Streamwood is located in Cook County. The median household income in Streamwood is $88,254, and the median home value is approximately $209,380, and about 2.3% of the families live below the poverty line. Streamwood, along with Bartlett and Hanover Park is one of three communities that make up the "Tri Village" area. A major retail sector has developed in recent years called Sutton Park. In addition to the Sutton Park Shopping Center, stores and businesses in the area include: Super Target, Pier 1 Imports, Marshall's, Famous Footwear, Wendy's, Chili's, Panera Bread, Chase Bank, US Cellular, CVS Pharmacy, Bank of America, Steak 'n Shake, Pearle Vision, UPS Store, Subway Sandwiches, GameStop, Jimmy John's, Taco Bell, and Arby's, to name just a few. With this expansion in the retail sector, there has been an increased need for CDL licensed truck drivers. The influx of the retail goods to these stores, find their way into Streamwood on trucks. Accordingly, the demand for more truck drivers is increasing as well. Many of Streamwood's locals have been looking into the CDL training/truck driving training classes at Wolf Driving School. These classes open up a vast array of career prospects for them.
Streamwood Truck Driving Training
Wolf Driving School can provide you many good rationalizations for taking CDL Training and Truck Driving Training. Besides a better salary, trucking provides you with the means to explore the United States. Not only that, but truckers play an important service to this nation. Truckers transport about 80% of all our products! Not only can Wolf Driving School provide our Streamwood students the resources to get a CDL; they can also be your ticket to finding a job. Give us a call a day to sign up for our CDL training/truck driving training classes.

Streamwood Truck Driving School | Streamwood CDL Training | Streamwood Truck Driving Training | Streamwood CDL License