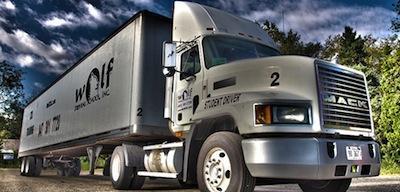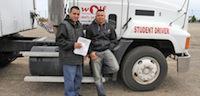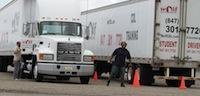 Des Plaines Truck Driving School
Wolf Driving School knows that in spite of the economic downturn, the transportation industry is doing extremely well. That's because there is always a need to ship food and other goods to businesses across the U.S. In addition, there are countless other reasons for persons living in Des Plaines to attend Wolf Driving School and take CDL Training to become truck drivers. One of the major reasons would be because of the pay. Most truckers earn an average of $35,000 a year their first year out on the road. Those same drivers are averaging between $45,000 and $50,000 annually a couple years later. In addition, veteran drivers, who have their own rigs, average over $100,000 a year. You can't find many professions that pay as well as that! Wolf Driving School has been educating Chicagoland and Des Plaines-based truck drivers in getting their CDL training and truck driver training needed to pass the exams. We are one of the most trusted truck driving/CDL driving schools in the Chicagoland area. Wolf Driving School offers CDL Class A training (the highest possible truck licensing) with available training for additional endorsements such as: driving tankers, triples, passengers or hazardous materials. We have built our business on the guiding principles of Honesty, Reliability, and Quality. Our Wolf Driving School instructors are highly trained and friendly, and our equipment is the top of the line. Our CDL training and truck driver training schedules are flexible to accommodate our students, so they can work and study at the same time. Not only do we want them to pass their exams, but we want them to be successful, safe, and confident drivers.
Des Plaines CDL Training
Des Plaines, Illinois is located roughly 19 miles northwest of downtown Chicago in Cook County. It has approximately 22,018 households in the city which represent a population of 59,518 persons. Des Plaines has adopted the official nickname of "City of Destiny." The city is located in Cook County and is a suburb of Chicago. Located next to O'Hare Airport, it is named for the Des Plaines River which flows through it. The name Des Plaines is French and means "of the plains." The median household income is $69,802, and the median house price is $244,509. Des Plaines has an increasing need for CDL licensed truck drivers because of the sheer numbers of residents and businesses within the city. The greatest percentage of its perishables and consumer goods are brought into the city by trucks. Not only that, but the majority of goods manufactured in Des Plaines are shipped across the state and country by trucks. Due to that fact, there is always a growing need for newly licensed truck drivers. Quite a few Des Plaines residents have recently enrolled in Wolf Driving School for CDL training/truck driving training classes. Having a CDL gives them the opportunity to begin a new career and to increase their earnings.
Des Plaines Truck Driving Training
If you can't decide why you should take the time to invest your energy into attending a CDL truck driving school, Wolf Driving School can offer you some very good convincing answers. First off, the wages are one of the most motivational reasons to sign up. Also, don't forget that trucking is a wonderful opportunity to take in the sights of this great country of ours. If you are serious about wanting to explore America, call Wolf Driving School. We will not only help you get a CDL; we'll help you find a job.

Des Plaines Truck Driving School | Des Plaines CDL Training | Des Plaines Truck Driving Training | Des Plaines CDL License